First-guess warnings for severe weather
April 2012 - A risk-based first-guess early warning tool for severe weather has been developed to assist Met Office forecasters in issuing severe weather warnings for the UK as part of the National Severe Weather Warning Service.
This first-guess warning tool post-processes data from the regional component of the Met Office Global and Regional Ensemble Prediction System (MOGREPS), and is known as MOGREPS-W ('W' standing for 'Warnings').
Ensemble prediction systems aim to take account of uncertainty in weather forecasts by providing a range of forecast scenarios, allowing generation of probabilistic forecasts.
The National Severe Weather Warning Service (NSWWS)
Weather warnings are presented by colour-coded 'risk' areas on a map. Three warning colours (yellow, amber or red) are issued based on the likelihood of a particular severe weather event occurring and its expected impact if it does occur − as selected from a weather impact matrix (top figure).
An important aspect of the impact assessment is that the same weather may have different levels of impact in different parts of the UK. For example, wind gusts of 60 mph may have virtually no impact in northwest Scotland where strong winds are common, but have a much higher impact in southeast England where they are rarer and population density is much higher.
Impact may also be higher depending on season, for example, trees are more vulnerable to wind damage with their leaves on in summer than when bare in winter.
MOGREPS-W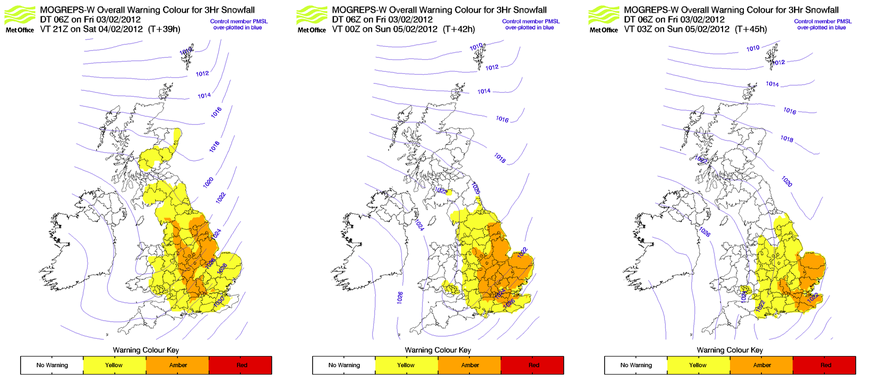 MOGREPS-W presents ensemble information to forecasters in a user-friendly format which mimics the NSWWS colour states, taking account of the expected impact of weather as well as likelihood.
The system generates colour-coded probability fields for low, medium and high impact weather and then calculates the overall warning colour across all impact levels. Here, impact colour takes priority over likelihood giving emphasis where appropriate to 'low probability high impact events'.
For example (using the impact matrix), a low likelihood high impact warning (amber) would take priority over a high likelihood low impact warning (yellow), even though the yellow warning has a higher likelihood.
MOGREPS-W is the first post-processed output from MOGREPS to become available to forecasters after run time, reflecting the high priority of warnings in the forecast decision chain.
Forecasting severe weather
Heavy snow affected much of central and eastern England on Saturday 4th February 2012 and overnight into Sunday 5th February 2012. Snowfall totals of 5 to 10cm were recorded widely in the affected regions with Wattisham (Suffolk) recording 15cm and Heathrow Airport recording 7cm.
Leading up to this snowy spell very cold air from the continent had become established over the UK. A weather front moving eastwards from the Atlantic came up against the cold air leading to a mixture of rain, sleet and snow across much of the UK.
From an early stage the weather models were showing this to be a finely balanced situation with uncertainty about which areas would see the most significant snowfall.
Forecast output from MOGREPS-W (shown above) shaded much of central and eastern England in amber, showing the highest risk of snow in these areas. Yellow shading extended westwards into Wales and parts of southwest England, showing a lower risk of precipitation turning to snow here and reflecting the uncertainty in how far inland the relatively warm Atlantic air would progress. This guidance was used by forecasters when issuing the final warnings (shown below).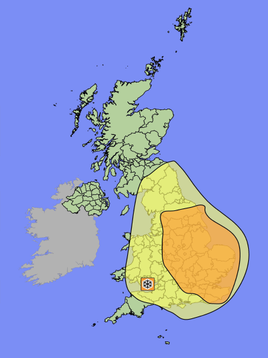 Output from key "deterministic" (single forecast) models such as the Met Office UKV model are also important for the weather part of the jigsaw, but ensemble products such as MOGREPS-W provide a form of risk assessment which is crucial.
Early indications from trials over winter 2011/12 are that MOGREPS-W provides very useful guidance on the issue of NSWWS warnings. This has included useful guidance for two red warnings for severe gales in the central belt of Scotland on 8th December 2011 and 3rd January 2012 and a yellow warning for snow in parts of England and Wales on 16th December 2011.
Future developments look to adapt MOGREPS-W to use high resolution data from a UK version of MOGREPS (MOGREPS-UK), as well as to extend the forecast range out to 15 days using EPS data from the European Centre for Medium-Range Weather Forecasts (ECMWF).