Met Office and Forecasting Firsts
Since its foundation in 1854, the Met Office has pioneered the science of meteorology and its application.
The evolution of how we forecast weather and climate has helped to inform a range of significant moments in history, such as D-Day, and has led to a deeper understanding about how these may impact us in time to come.
Learn more about the journey of the Met Office and discover some forecasting firsts throughout history below.
The Met Office: From 1854 to Now
1854 Met Office established by Vice Admiral Robert FitzRoy within the Board of Trade.
1859 Royal Charter storm: approximately 459 lives lost off Anglesey and leads to introduction of a storm warning service.
1861 Newspapers take first public weather forecasts. See image below to see what it looked like!
1861 First Shipping Forecast delivered by telegraph to harbour towns. See image below to see what it looked like!
1916 First military operational forecast.
1919 WWI has just ended, and the Met Office become part of the Air Ministry.
1922 First daily weather forecast is broadcast on radio.
1924 First Shipping Forecast is broadcast on radio. See image below to see what it looked like!
1936 First televised weather maps.
1944 The Met Office advises on Operation Overlord and provides key forecasts for D-Day.
1954 First in-vision weather forecast is presented by George Cowling. See image below to see what it looked like!
1960 TIROS – the world's first meteorological satellite – is launched.
1962 The Mobile Meteorological Unit is established to provide support for military exercises across the world.
1965 First operational forecast by a computer nicknamed 'Comet'.
1986 NAME – the Met Office atmospheric dispersion model – is developed in response to the Chernobyl nuclear disaster. See image below to see what it looked like!
1987 The Great Storm occurs and results in the National Severe Weather Warning Service.
1988 The Meteorological Office becomes the Met Office.
1990 The Hadley Centre for Climate Prediction and research is founded.
1995 Met Office launches its website.
2003 Met Office Headquarters move from Bracknell to Exeter.
2009 Flood Forecasting Centre is founded, a joint operation between the Met Office and the Environment Agency.
2009 Met Office joins Twitter. This is followed by Facebook in 2010, Instagram in 2013, Snapchat in 2017 and TikTok in 2019.
2010 The London Volcanic Ash Advisory Centre, based at the Met Office, monitors and forecasts ash dispersion of erupting Icelandic volcano Eyjafjallajökull.
2011 The Met Office moved from the Ministry of Defence to the Department for Business, Innovation and Skills.
2014 The Met Office produces its first operational space weather forecasts.
2015 Storm Abigail hits north-west Scotland and is the first storm to be named by the Met Office.
2016 Met Office creates an App for iPhone and Android.
2020 Met Office secures £1.2 billion of funding for a state-of-the-art supercomputer that will improve severe weather and climate forecasting. Computing capacity is expected to increase six-fold when it launches in 2022.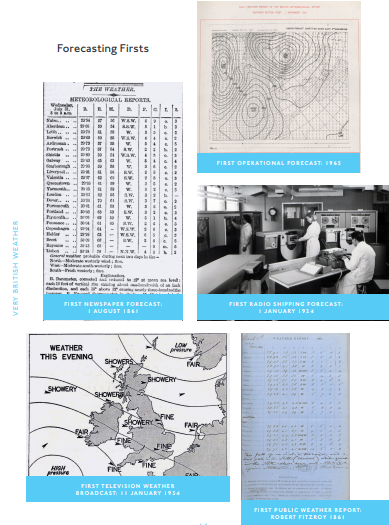 Image taken from Very British Weather (2020)
Find out more about the history of the Met Office here.
To find out more about weather and climate in the UK, the Met Office has released its latest book, Very British Weather, out now.