Are you ready for the Elements this summer?
Author: Press Office
11:35 (UTC+1) on Fri 30 Jun 2023
The elements are meeting in more ways than one this summer as the Met Office teams up with Disney and Pixar for the blockbuster release of 'Elemental'.

The latest animated film from Pixar takes place in Element City, where Fire, Water, Earth and Air residents live together and react in surprising ways; something the Met Office is an expert in. 
Ahead of the film's release on 7 July, the Met Office is collaborating with Disney and Pixar on a suite of multimedia content, with some familiar faces from Element City making an appearance.  
With elements always interacting as part of Met Office weather forecasts, the characters from Elemental make the perfect messengers for some advice on how to enjoy the weather safely this summer, forming part of Met Office WeatherReady seasonal advice.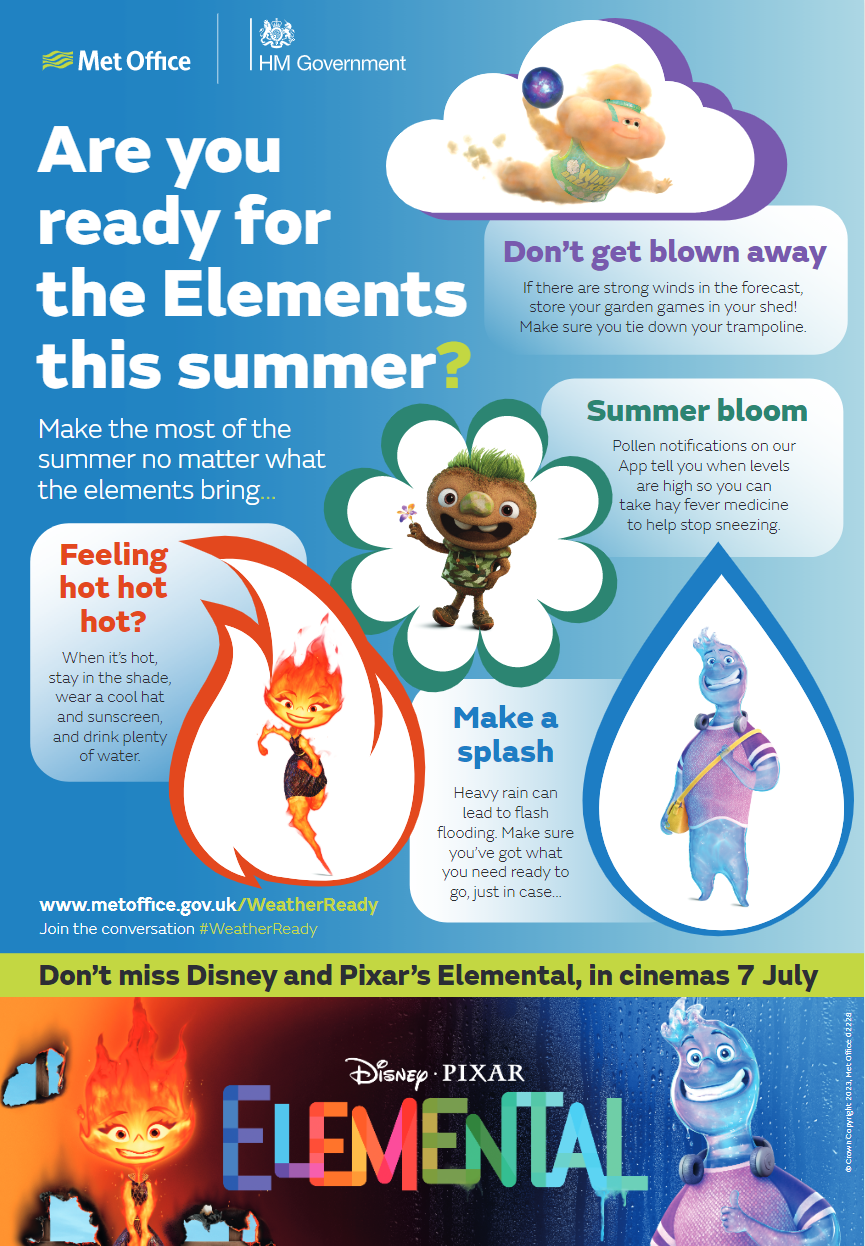 Met Office Associate Director of Communications and Engagement Dave Britton said: "It's hugely exciting to collaborate with Disney and Pixar - collaborations of this kind really help all involved extend the reach of our messages, helping young and old alike understand more about the weather, how it can affect our daily lives and how we can help ourselves and those around us stay safe. Working with others to drive even greater engagement in weather and climate information is really important to the Met Office, and this is the first time we've worked with Disney and Pixar to reach different audiences." 
As part of the collaboration, 'Elemental' Director Peter Sohn ("The Good Dinosaur," "Partly Cloudy" short) and Producer Denise Ream ("The Good Dinosaur," "Cars 2") will feature in the Weather Snap podcast, talking about how they brought the different elements to life, from soaring clouds through to puddles of water, and everything in between.  
Leah Lewis, who plays a fiery young woman called Ember, and Mamoudou Athie, who plays a go-with-the-flow guy called Wade, will also feature in the podcast to see which of them knows their weather elements best.  
Met Office presenter Alex Deakin, who is part of the campaign, said: "Elements reacting is always exciting for us meteorologists. It's great to be able to work with Disney and Pixar to bring our weather advice to life in a fun way, while also exploring the fictional world of Element City." 
It's hoped characters from 'Elemental' will help a more diverse group of people understand about the impacts of weather and how to make the most of it, as well as helping more young people learn about meteorology and the elements around them.  
'Elemental' is in cinemas from 7 July. 
Follow the Met Office on Facebook, Twitter, Instagram, TikTok and YouTube for the latest content.  
Subscribe to WeatherSnap where you get your podcasts.  
Elemental 
Directed by Peter Sohn, produced by Denise Ream, p.g.a., and executive produced by Pete Docter, 'Elemental' features a screenplay by John Hoberg & Kat Likkel and Brenda Hsueh with story by Sohn, Hoberg & Likkel and Hsueh. The film's original score was composed and conducted by Thomas Newman. 'Elemental' opens only in cinemas on July 7, 2023.