The Cray XC40 supercomputing system
The Met Office supercomputing system is one of the most powerful in the world dedicated to weather and climate.
This hugely complex Government IT project was successfully completed in December 2016, delivered early and on budget. Some fifteen times larger than its predecessor, this  major science infrastructure investment has enabled the UK to continue to lead the world in weather, climate and environmental science high-performance computing.
Our supercomputer consists of three main systems - an identical pair of machines and a single larger system in a purpose-built data centre nearby. The twin identical machines provide a highly resilient capability for running time-critical operational weather forecasts, whereas the third system provides research, development and collaboration capabilities.
At the time of installation all three phases of our current supercomputing system appeared in the top 50 of the world's most powerful computers. The Met Office's supercomputer capability currently remains one of the most powerful in the world dedicated to weather and climate.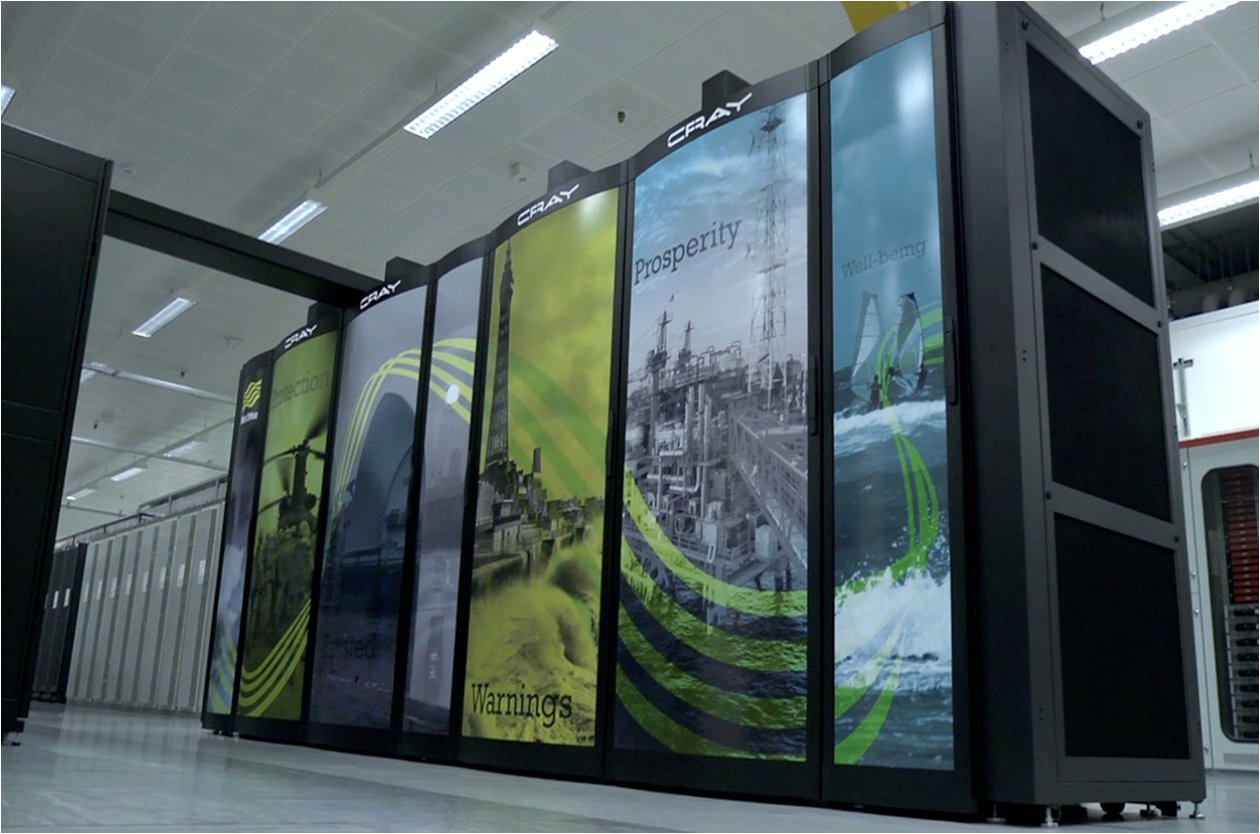 Facts and big numbers
Our three Cray XC40 supercomputing systems:
Are capable of over 14,000 trillion arithmetic operations per second – that's more than 2 million calculation per second for every man, woman and child on the planet.
Contain 2 petabytes of memory enough to hold 200 trillion numbers.
Contain a total of 460,000 compute cores. These are faster versions of those found in a typical quad-core laptop.
Contain 24 petabytes of storage for saving data - enough to store over 100 years worth of HD movies
This power allows the Met Office to take in 215 billion weather observations from all over the world every day, which it then takes as a starting point for running an atmospheric model containing more than a million lines of code.
The value of the supercomputing system
By the end of its life, the supercomputing system will have enabled an additional £2bn of socio-economic benefits across the UK through enhanced prediction of severe weather and related hazards.
This includes benefits to aviation from better forecasting at airports, more sophisticated modelling of flooding, more detailed information for the energy sector and new research on climate impacts to inform long-term planning and action.
Our supercomputing system has helped to unlock new science and to introduce even more detailed forecasts and advice. This information is critical to protecting and saving lives, improving UK resilience to high-impact weather and supporting UK economic growth,
Increased capability
The increased capacity of the current supercomputing system has enabled us to extend our  forecast lead times, expand the area covered by our UK model and improve the accuracy of our prediction of small scale weather such as showers.  Detailed predictions for the UK now take place every hour instead of every three hours, giving us crucial and timely updates when extreme weather is approaching.   
Because of improved science and increased computing power, today's four-day forecasts are as accurate as one-day forecasts were 30 years ago. The UKCP18 project harnessed the latest science and supercomputing capabilities from the Met Office, combined with the expertise of the Environment Agency and Defra. This is providing crucial information about how we can expect our climate to change over future decades, helping decision-makers assess the full range of risks from the changing climate and advise how we should adapt.
Supercomputing is fundamental to the Met Office's weather and climate science and services. Future technology advances will continue to increase forecasting accuracy and enable more complex and realistic modelling of real-world processes on weather and climate timescales, ensuring the Met Office continues to provide the best predictions and advice.
Future capacity
We recently completed procurement to replace our existing supercomputing infrastructure by 2022, at the end of its useful life.  In doing so we sought to increase our supercomputing capacity and performance sufficiently to support our weather and climate operational and research workloads for the next decade.  A 10-year contract has been signed with Microsoft for the provision of this future supercomputing capability.
This investment will help us provide the information Government need to build a more resilient world in the changing climate. It will
supply a world leading supercomputing capability, dedicated to helping government, industry and the public make better decisions to stay safe and thrive, with expected financial benefits of up to  £13 billion (or £9:1) over 10 years, supporting the UKs economic recovery both across the UK and locally in southwest England.
deliver earlier, more accurate warnings of severe weather, protecting people, businesses, and critical national infrastructure.
enable ground-breaking new climate change modelling, unleashing the full potential of the Met Office's expertise in climate science to help build a resilient, low carbon economy .  
ensure the UK can continue to lead the field in weather and climate science and services cementing the UK's global leadership on climate action, helping the UK build back greener and reach net zero emissions by 2050. 
secure the Met Office and the UK's prominent, authoritative voice, directly contributing to the UK's global reputation for scientific research and innovation. As the UK takes forward its new position outside the EU, this leadership, fed by influential UK-based science, capabilities, skills and partnerships will remain essential as we build back stronger.
Environmental Impact
Microsoft, the Met Office and the UK government take environmental and social impact seriously and are firmly committed to delivering a sustainable solution capable of supporting the UK government's efforts to lead the global fight against climate change and meet net zero targets.   
The supercomputing capability will be based entirely in the UK and will be powered through use of 100% renewable energy and market leading energy efficiency, saving 7,415 tonnes CO2 in the first year of operational service alone, in line with Met Office, Microsoft and UK government commitments of Net Zero and beyond. 
This infographic below and the most recent press release summarise the benefits the increased supercomputing capacity will deliver.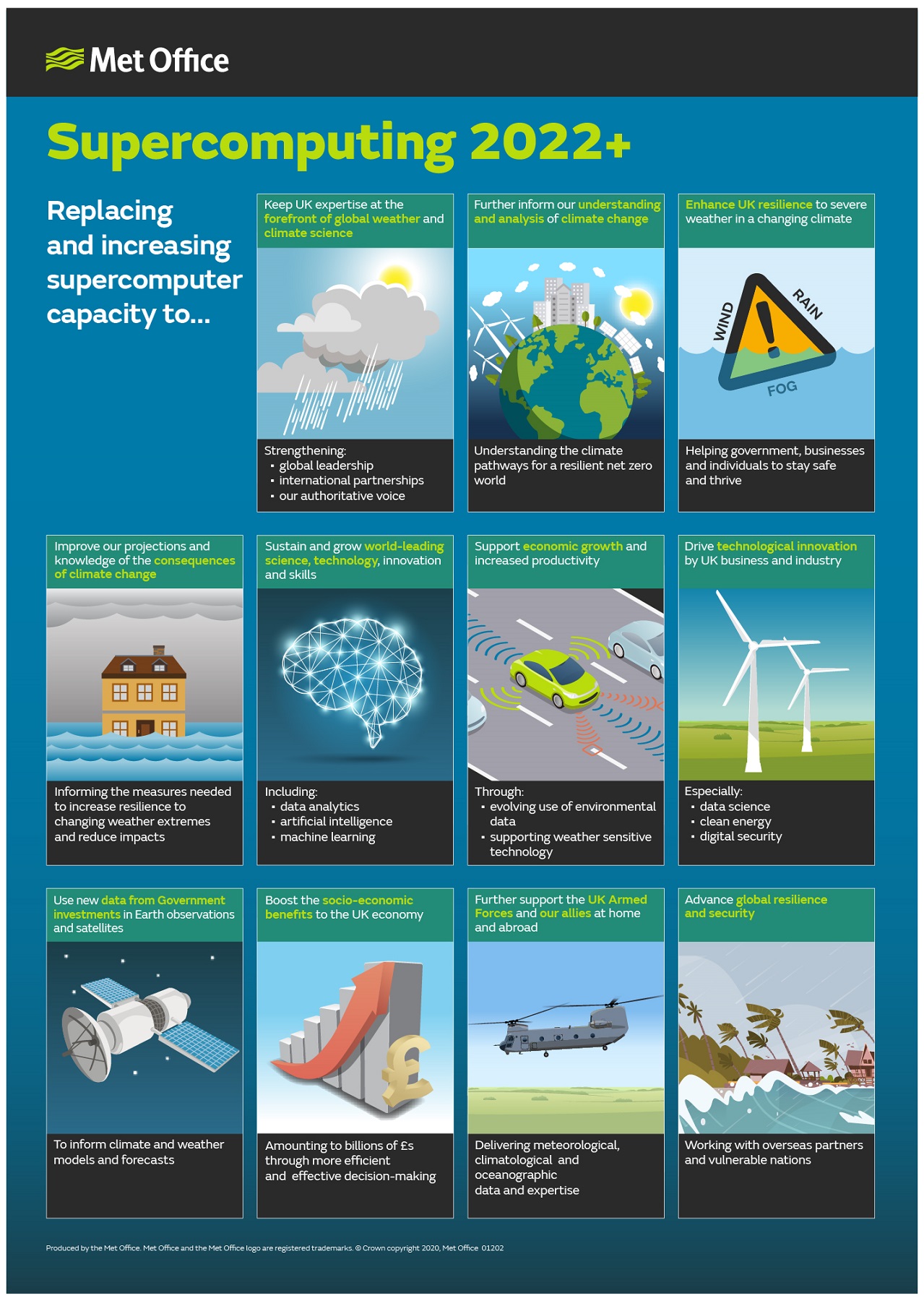 Use Cases
Here are some examples of the benefits that increased computing power and associated science expertise will bring:   
Data exploitation  
The increased speed and amount of data processed and created by the new supercomputing capability, as well as improved accessibility of our data presents a great opportunity for data exploitation and improved risk- based forecasts. Combining city scale model data around weather hazards for example around air quality or fog, with exposure and vulnerability population data from other sources such as traffic flow and health data could result in greatly improved city planning and ultimately improved health in cities.  
Climate risk and projections  
More localised climate projections, building on our UK Climate Projections from 2018,  across more than just the UK, will enable better investment in infrastructure and adaption to keep people safe in areas of increased flooding, coastal inundations; risks of impacts in coastal ports (e.g. multiple data sets and multiple scenarios and projections) and areas of increased climate sensitivities enabling a much better calculation of risk. The Climate Change Risk Assessment has also highlighted areas where more science is needed and will be possible by increased computing power and more realistic scenario modelling available.  
Flooding  
An increase in supercomputing capacity is required to provide an improved understanding of expected future rainfall trends and extremes (including high impact low probability events) as well as changes to sea level, along with their impacts at a local level. This is vital to ensuring confident decisions can be made for the avoidance of flooding and associated damage to property, disruption to infrastructure and services in present day and future climate, for the continued resilience of UK assets. This investment in supercomputing will enable us to  
forecast more localised short-duration extremes in rainfall and better predict storm surges. This includes enabling high resolution "convection permitting" modelling – an area of scientific excellence for the UK where we are world leading. Through our continued work with the EA through our partnership Flood Forecasting Centres this will improve flood warnings.  

extend our flooding forecasts from forecasts of single hazards (waves, wind, rain) towards multi-hazard, impacts-based flooding services. For example, combining interacting wave, wind, rain and fluvial information in ensemble mode to provide probabilistic impact-based advice on coastal flooding, resulting in significantly improved decision making.  

better characterise and reduce uncertainty in the extreme ends of climate projections, improving confidence in adaptation measures by facilitating risk-based and storyline-based approaches to managing climate risk.  

remove one of the largest uncertainties in climate projections through enabling the first credible fully coupled projections of the future of the West Antarctic Ice Sheet (WAIS) to predict the impact of climate change on sea level rise  
This will all lead to better informed risk assessments for developing and maintaining the UK's resilience to flooding in the changing climate. Our improved weather predictions will provide more confidence for decisions to be made on longer lead-times, allowing emergency responder to plan their response and giving people time to protect their homes/businesses and evacuate if required.  Our improved climate predictions will continue to inform national climate change policy and feed adaptation and resilience decisions. For example, the next UKCP will feed into the UKs 5 yearly climate change risk assessment (CCRA) and our climate science will continue to be a vital contributor to the internationally important IPCC reports.  
Aviation  
Higher resolution modelling from local area models around more UK airports will increase the ability to forecast fog with greater warning time so disruption is minimised, and safety increased. These forecasting improvements, as well as advances in our global ensemble prediction (scenarios showing range of possible outcomes), will lead to better predictions of jet stream winds and ultimately increased fuel efficiency and more sustainable air travel.  
Improved modelling  
High resolution climate and weather models combined with other models of the earth system such as oceans, land, ice, or chemistry made possible by increased supercomputing capacity will enable us to better represent complex real- world situations. These highly detailed computer simulations of reality combined with real time updates from a wide range of data sources, will provide better understanding of the environment and our human impact on it, enhancing environmental decisions on the path to net zero.