Met Office COP27 webinar series
In the lead up to COP27, the Met Office hosted a series of webinars on key topics
Ahead of the UN Climate Conference, COP27, held in Egypt in 2022, the Met Office identified some priority themes relevant to the event. Three of these were used to develop a webinar series to provide the latest science and policy information on the themes and invite discussion with interested parties.
Climate adaptation: Africa on the frontline
The first webinar, on 07 October 2022, explored the impacts of climate change on the African continent, a region disproportionately affected by our changing climate. We were joined by speakers from the UK's Foreign, Commonwealth and Development Office (FCDO) and the Red Cross Red Crescent Climate Centre.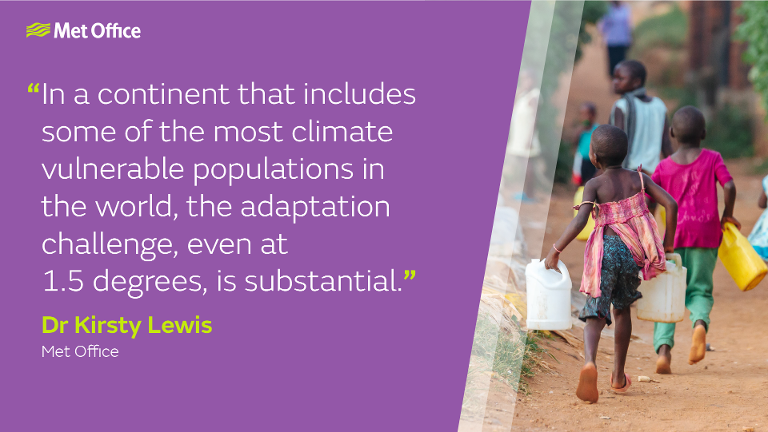 Event summary
Balance is needed between meeting the immediate priorities of communities with the longer-term issues, and some countries still need help to develop forecasting capabilities to support early warnings. Key priorities are around action-orientated research and evidence-based action, shifting our approach so that we're tackling climate change in order to be able to deliver climate resilient development at scale. Decisions made now need to hold under a climate that is largely more hostile than the one that we've become used to.
Increased financing is needed to ensure that early warning and early action are sustainable, and projects need to focus on local adaptation priorities with communities at the centre. We must be embedding climate resilient development and climate resilient thinking into all future planning and investments. We must be much more collaborative and coordinated in addressing those user-centred priority research questions to provide practical solutions that genuinely reduce the risks for the most vulnerable.
You can view a recording of the event on YouTube and read a more detailed summary here.
How can science and services help global food supply?
The second webinar, on 13 October 2022, considered the impacts of climate change on the resilience of the food system and how this is factored into decision making. We were joined by speakers from the University of the West of England, Defra and the Food and Agriculture Organization (FAO).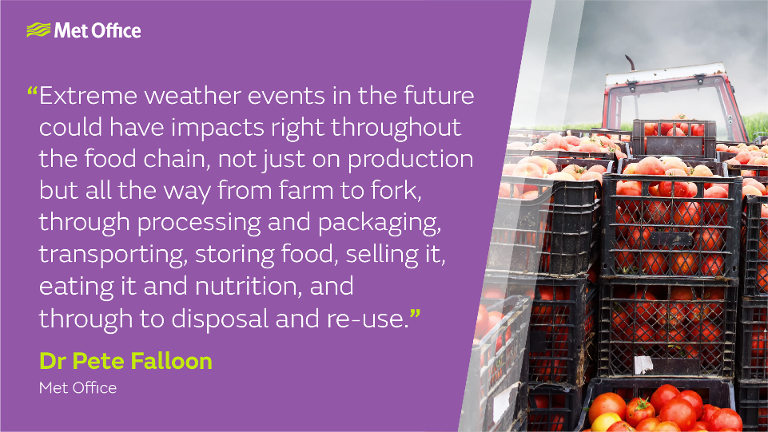 Event summary
We need to take action to secure healthy and sustainably produced food for all in order to achieve net zero emission targets. It is vital that researchers and stakeholders come together in a spirit of openness and collaboration and with real urgency to mobilise ideas and resources around advancing the transition.
UK policymakers are working towards risk pathways to try and reduce our exposure to risks. There is a desire to encourage the uptake of best practise in farming, which will support both reduction of emissions as well as climate resilience in terms of more resilient crops. Precision breeding technologies also have longer-term potential to support food security and help the UK meet Government goals around adapting to climate change and enhancing sustainability.
Every mitigation and adaptation decision has to be context specific because of the significant impact on vulnerable populations and ecosystems. Countries need to think about no-regrets scenarios, including different criteria and elements in the decision-making process. Numerous policy and technology-based options have been already tested and, in many cases, have been proven to be economically viable and commercially possible. However, there is still an implementation gap in the sector. The Intergovernmental Panel on Climate Change (IPCC) has suggested many innovative solutions that would contribute to the transformation from the business as usual to more sustainable agri-food systems.
You can view a recording of the event on YouTube and read a more detailed summary here.
Pathways to 1.5°C
The third and final webinar, on 31 October 2022, considered whether we are on track to limit warming to 1.5°C, also exploring overshoot and the co-benefits of tackling climate change. We were joined by speakers from University College London, the University of Leeds and the UK's Department for Business, Energy and Industrial Strategy (BEIS).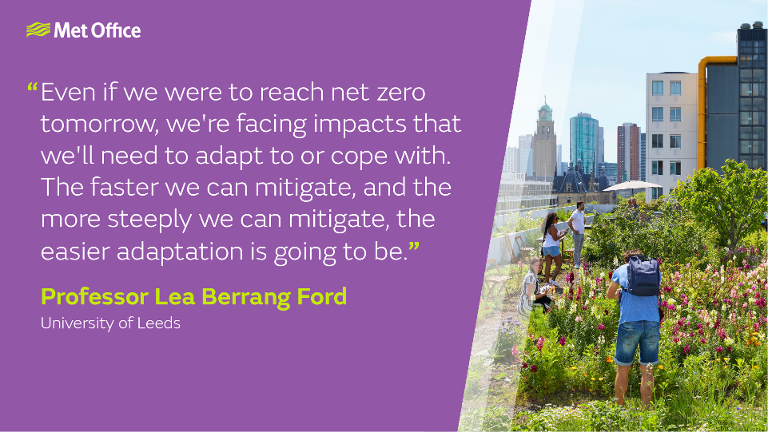 Event summary
We know that the cost of action is far outweighed by the cost of inaction, and we know that the economic and social benefits of delivering net zero within the UK and globally far outweigh the investment and the change required. Early and ambitious action to tackle climate change can help maximize the co-benefits for people, for society and for the economy, as well as keep 1.5°C alive with little or no overshoot.
The UK's Climate Change Committee (CCC) said in 2018 that net zero would cost the same as their initial estimate for the costs of an 80% reduction target. Over the last year, as gas prices have increased exponentially, they have assessed that delivering the UK's net zero target could now carry a net negative cost. The cheapest way of preventing the most damage is to mitigate as fast as we can. A more holistic perspective also includes a cost-benefit analysis of mitigation versus the cost of future damages caused by climate change.
We know that the barriers to keeping 1.5°C in reach are political. They're not scientific, they're not technological. We know what needs to be done. We need greater ambition and action from national governments. We need immediate action in the next few years, and we need to make sure that we've got investment in the right places to accelerate technological changes. And action also needs to be taken at all levels – we need local governments, civil society, non-state actors and all parts of society to act. This action needs to be mainstreamed and part of every decision we make across society.
If we start delivering now, we will see benefits. We'll see benefits in the UK in terms of growth and jobs. One estimate suggests that the UK's efforts towards net zero have already resulted in around 70,000 new jobs being created. Co-benefits also include improvements to global health, sustainable livelihoods and sustainable agriculture, and there are opportunities for the UK to be a global leader.
You can view a recording of the event on YouTube and read a more detailed summary here.