Mountain forecast guide
Mountains can be inhospitable and dangerous places for the ill prepared. From one hour to the next, from one hill to the next, they can exhibit a dramatic variation in weather conditions.
Whether it is a well-planned expedition or a spur of the moment decision to go to the hills, it is important to check the forecast. 
We provide forecasts for a selection of the main hill and mountain areas in the UK. This content is designed for walkers, mountaineers and others taking part in outdoor activities. Forecasts are issued in the afternoon before 6pm every day and cover the evening period, the full 24 hours from midnight to midnight for the next two days then a brief outlook for the following 3 days. The forecasts are updated in the early hours of each morning before 6am.
All mountain forecast information is gathered together on the Mountain weather forecast page. The map highlights the areas for which mountain forecasts are available. The map shows a hazard symbol alongside the areas where there is a hazard risk.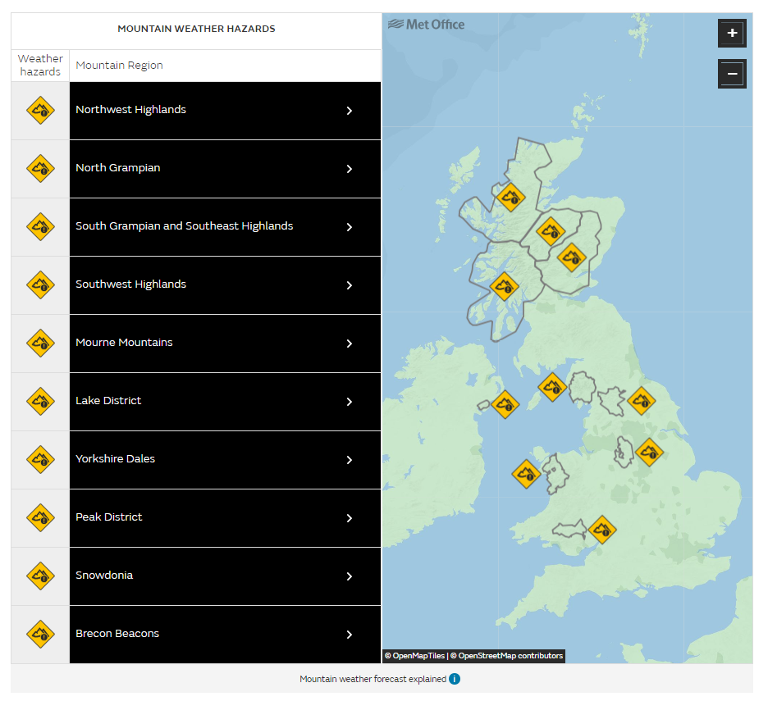 Choose one of the regions from the list or on the map to display the following further information about your chosen location:
 Clicking on the print icon will take you to a printable pdf that includes the warnings and hazards for your chosen area along with the weather overview information.
Warnings and weather hazards
This section shows you if there are any severe weather warnings in force for your chosen region along with a summary of the hazards and the level of risk of the hazard occurring.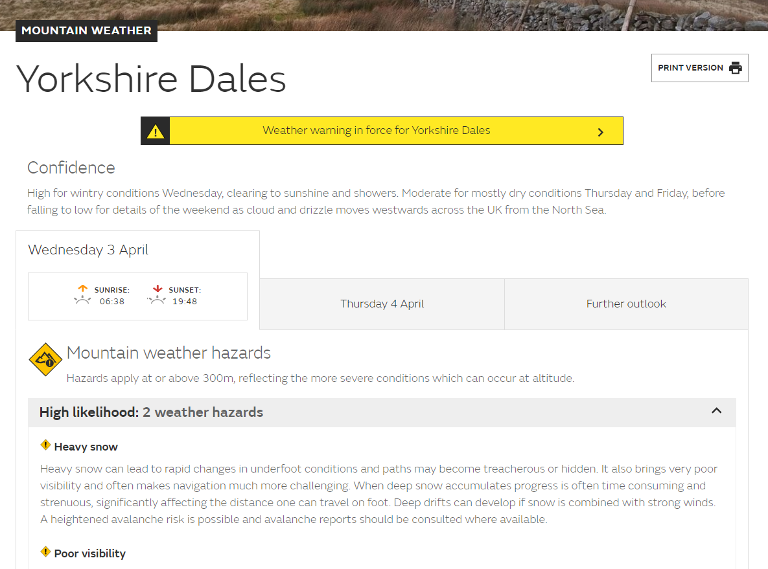 These mountain weather hazards apply at or above 300m, reflecting the more severe conditions which can occur at altitude. You will see that there are more types of mountain weather hazard than severe weather warning type, again reflecting the different types of severe weather which can commonly occur at height. There will be occasions when mountain weather hazards are in force for your chosen mountain forecast area but there are no severe weather warnings in force for the same area. It is unlikely that there will be occasions when a severe weather warning will be in force but a comparable mountain weather hazard is not.
Forecast table
If you scroll down the page from the weather hazards in force for your area, you will find the forecast table for the day. This table will show you the following parameters at different altitudes from valley to peak:
Wind speed, direction and gust
Temperature
Feels like temperature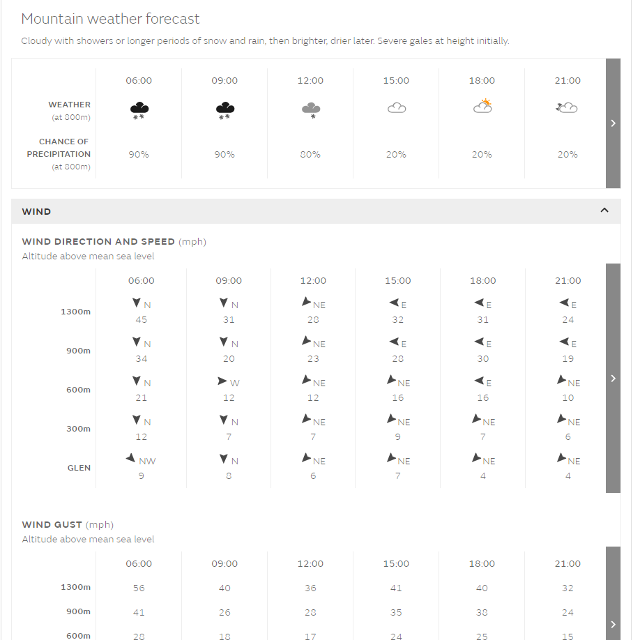 At the bottom of the table you will find the freezing level (the level above which snow is expected to settle, or the ground is expected to be frozen)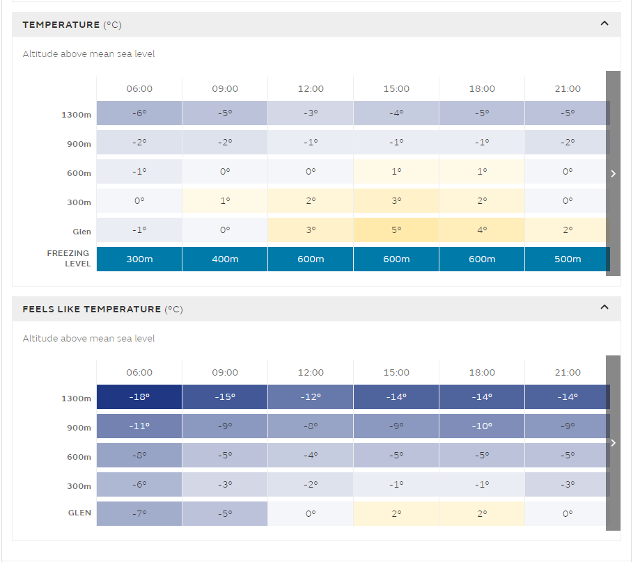 The tabs near the top of the page take you to detailed forecasts for the next two days with the further outlook providing a brief forecast for the following three days.
Underneath the tables you will find a text forecast written by a meteorologist. This will provide you with essential detail including weather, cloud and visibility. The Meteorologist's View section provides useful additional information and highlights any significant variations in winds and temperature across the area which may not be captured in the wind and temperature tables. For example, if stronger winds are only expected to affect a relatively small part of the forecast area but are not included in the table they will be mentioned here.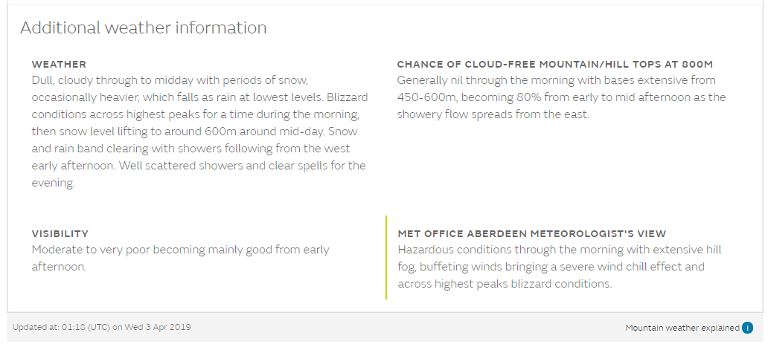 Location map
The location map allows you to access the seven day forecasts for specific summits or places of interest within your chosen mountain forecast region.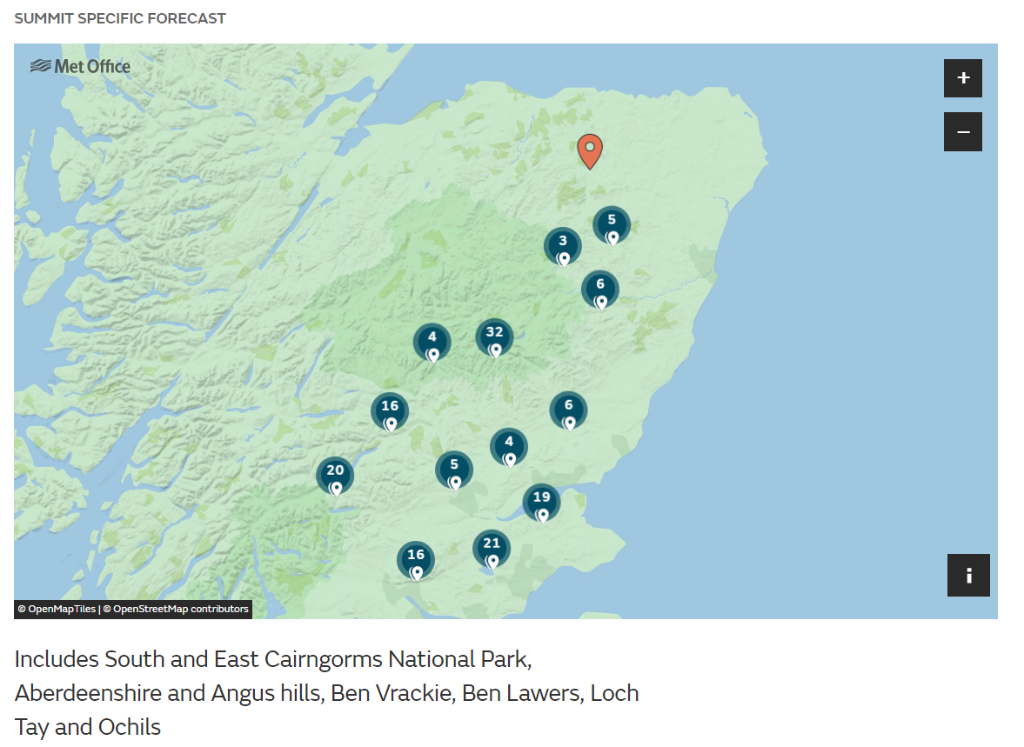 To access the seven day forecast for one of the summits or places of interest click on the marker
The content in this section is designed specially to meet the requirements of walkers, mountaineers and others taking part in outdoor activities in mountainous areas and was designed using their input. The mountain forecasts are designed to be easy to use and understand, however, the following information may help you to interpret the forecasts.
Availability
We provide mountain forecasts for a selection of the main mountain areas and those which have the highest visitor figures.:
Brecon Beacons National Park
Snowdonia National Park
Peak District National Park
Yorkshire Dales National Park
Lake District National Park
Mourne Mountains
Southwest Highlands (including Ben Nevis, Glen Coe and the rest of Lochaber, Argyll including the Isles, Loch Lomond, Trossachs and Arran)
South Grampian and SE Highlands (including South and East Cairngorms National Park, Aberdeenshire and Angus hills, Ben Vrackie, Ben Lawers, Loch Tay and Ochils)
North Grampian (including North and West Cairngorms National Park, Monadhliath, Ben Alder, Creag Meagaidh, Loch Ericht and Loch Rannoch)
Northwest Highlands (including Sutherland, Ben Wyvis, Wester Ross, The Cuillin, Glen Affric, Glen Shiel and Knoydart)
Hazard criteria
The mountain forecast hazard section covers a range of hazards likely to affect those outdoors in mountainous areas. The following tables details these hazards along with criteria for issues and the likely impacts you may experience.
Criteria and Impact for Hazards

Hazard

Criteria

Impact

Blizzards

Moderate or heavy falling snow (either continuous or in the form of frequent showers) with winds speeds of 30 mph or more and a reasonably extensive snow cover.

Near zero visibility and total disorientation likely.

Heavy snow

Heavy snow falling during the day with over 15 cm (6 inches) of average depth of fresh snow expected.

Significantly reduced visibility, potential danger with losing footing if paths are obscured. Navigation more difficult. Progress likely to be affected to a considerable degree. Marked increased risk of white-out conditions. Marked increased risk of hypothermia if snow is wet

Storm force winds

Winds with consistent gusts above 70 mph.

Very strenuous walking conditions with any mobility virtually impossible over exposed ground. A high risk of being blown over and standing may be impossible at times with a risk of being blown off one's feet. Tasks such as using a map, putting on extra clothing or communication become extremely difficult away from shelter.

Gale force winds

Winds with consistent gusts above 50 mph.

Difficult and strenuous conditions with a risk of being blown over. There is often a marked increase in winds through cols or on exposed ridges and summits. Distances can take longer to cover and compass bearings become harder to follow accurately.

Poor visibility

Severe reduction in visibility due to low cloud, falling snow or blowing snow. Visibility often 50m or less.

Difficult route finding with few or no visual references and risk of disorientation. Distances can become hard to judge. A risk of white-out conditions when heavy falling or blowing snow or fog is combined with deep snow cover.

Thunderstorms

Lightning strikes.

Lightning strikes are likely to cause danger, especially on exposed tops and ridges

Severe chill effect

When cooling is greatly increased by strong winds, normally exceeding 35 mph. mean wind speed. If driving rain or sleet is also forecast winds may be lower than 35 mph.   

Please note that other factors such as mist, sunshine, precipitation and snow cover will either mitigate or enhance cooling.

Considerable risk of hypothermia and frostbite, unless adequately equipped and protected. NB: Even though winds in valleys or glens may be light, sudden and very marked increases can occur at higher levels.

Heavy persistent rain

Persistent, heavy, rain (or sleet), lasting at least 3 hours, or over 40 mm expected in 24 hours, starting from dusk of the previous day.

Risk of major discomfort unless adequately equipped and protected. Reduced visibility possible. Watercourses likely to become rapidly in spate and marked increased risk of very boggy terrain. Marked increased risk of hypothermia, especially if combined with strong winds, unless adequately protected.

Strong Sunlight

Exposure to moderate or high levels of UV

During snow conditions, significant glare off the snow pack.

Please note: The Strong Sunlight hazard used in the Mountain Area Forecasts is based on both the UV level corrected for altitude and weather conditions in each mountain area. In winter, where there is extensive snow cover and strong sunlight, this also takes into account the risk of glare off the snow pack. For this reason, the UV index on the Mountain Area Forecasts may differ from those on our standard forecasts.

Risk of sunburn - seek shade during midday hours, cover up and wear high protection factor sun screen.

High levels of reflected light which may be unpleasant and potentially lead to snow blindness - wear appropriate eye protection.
Guide to forecast content
The table below highlights the different sections of the mountain forecast and provides additional supporting information.
Key to the components within the Mountain forecast

Weather Element

Description

Confidence (relevant to all 5 days)

Covering the whole 5 day period. Describes the main uncertainties or forecasting challenges. For example, if there is uncertainty in the timing of a weather front bringing rain or snow across the area you may want to plan to be off the hill in good time. Or there may be high confidence for certain conditions to persist for a few days giving the user confidence to plan routes further in advance.

Headline

(day 1 only)

A few words to set the scene and give the main emphasis for the day. This is a brief summary and should be used in conjunction with the other parts of the mountain forecast to gain a full picture of the conditions.

Hazards 

(day 1 only)

Nine weather hazards have been identified as most significant for the mountain environment. The likelihood of each hazard is assessed as either Nil, Low, Medium or High.

The likelihoods are based on predicted severity, extent and timing of each hazard across the forecast area and provide a general guide or overview of what may be encountered. There are often large variations in conditions depending on location, height and time of day so this should always be used in conjunction with the rest of the forecast to get the full details. Note that hazards only affecting a small part of the area or occurring for a short period of the day or at night will often be assigned a lower likelihood.

For the full list of hazards please see the Hazard Criteria table above.

Weather symbol and chance of precipitation

(day 1 only)

Weather symbols summarise the weather conditions at three hourly intervals for the height stated. This gives an indication of the most likely conditions across most of the area. The symbol will not be representative of the conditions at every location so it must be used in conjunction with the other parts of the mountain forecast to gain a full picture of the expected weather.

The Chance of precipitation section indicates the extent of the forecast area likely to be affected by precipitation at each time. This could be in the form of rain, drizzle, sleet, snow etc.

Wind and temperature tables

(day 1 only)

Winds and temperatures at different heights and freezing level given for three hourly intervals throughout the period.

The table represents typical conditions on exposed ground but please note there are often large variations in conditions in the mountain environment which may not be represented in the table. For example, ridges or high plateau may experience stronger winds than shown or there may be large variations across the forecast area such as during the passage of a low pressure centre.

When significant differences are expected from those shown in the table, either aerially or with height, these are described in the 'Meteorologist's View' section.

Weather

(days 1 and 2)

Description of precipitation (type, extent, intensity and duration), extent of cloud and sunshine and any other weather elements to consider. The forecast is for the whole 24 hour period but with more detail provided for daylight hours and for weather above 600 metres for the Scottish areas, 500 metres for the Lake District and Snowdonia, and 400 metres for the Peak District, Yorkshire Dales and Brecon Beacons.

Chance of cloud-free tops

(days 1 and 2)

The chance of your efforts being rewarded with a view from the summit. This section includes full details on the extent and persistence of low cloud across the area. Significant aerial or temporal variations are highlighted in the text.

Visibility (days 1 and 2)

Also known as clarity of air outwith any low cloud, there are a number of ways this is described but can be classified in the following way:

i. Very Hazy - less than 10 km

ii. Hazy - less than 30 km

iii. Good - between 30 and 60 km

iv. Excellent - over 60 km

Meteorologist's View

(day 1 only)

An opportunity for the Meteorologist to give their view on the weather situation and include any further information not otherwise covered in the forecast. This section highlights any notable detail or variations in temperature and winds not already covered in the data tables such as funnelling effects across ridges or strong downslope gusts. It may also highlight notable changes in the weather or any particularly unseasonable conditions such as extremes in temperature.

Maximum winds

(day 2 only)

Winds speeds cited are the highest expected, these normally occurring on exposed peaks or ridges, though it should be noted that winds in mountains are very turbulent. Any changes during the course of the day will be emphasised, as will any differences in speeds over the forecast area.

Temperatures and Freezing level

(day 2 only)

Freezing Level is defined as the level above which snow is expected to settle or above which the ground is expected to be frozen. Account is not taken of melting of surfaces in direct sunshine during the day.

Outlook

(days 3 to 5)

Brief text summary for days 3 to 5 for planning purposes.

Ground conditions

Ground conditions are provided by authoritative partners in the Lake District and Snowdonia for October to April.
The mountains can be a dangerous place throughout the year. The Met Office, in conjunction with the Welsh Government, British Mountaineering Council, Mountain Leader Training and Sports Wales, have produced a series of short videos on the skills you will need throughout the year and how to stay safe on the mountains.